Rio Vista Universal seals exclusive deal with International Hot Rod Association (IHRA) for "Nitro Jam" Series premiering on MAVTV in October

(Los Angeles, CA May 1, 2014) — Hollywood, California-based RIO VISTA UNIVERSAL, whose recent  success with season one of the new weekly tv series, "Gear Heads," recently prompted an immediate additional season order headed for production this fall,  announces an exclusive deal with the International Hot Rod Association to produce the IHRA's "Nitro Jam" Drag Racing Series consisting of 39 episodes for broadcast exclusively on MAVTV beginning October 2014. The deal was cemented this week between James Ganiere, CEO of Rio Vista Universal, Jason Rittenberry, CEO, IRG Sports + Entertainment and show creator Raymond Iddings.   http://riovistauniversal.com/
"We are excited to partner with Rio Vista Universal and Ray Iddings to produce our new IHRA Nitro Jam show," stated Jason Rittenberry, CEO of IRG Sports + Entertainment. "Having worked with Ray on several shows in the past and with the success of his and Ganiere's 'Gear Heads,' we feel confident in their ability to provide us with an entertaining show that will drive new fans to IHRA's 'Nitro Jam.'"
Featured in the series are top IHRA drivers Bruce Litton with his "U.S. Male" team and Mark Sanders with his "Mr. Explosive" Nostalgia Nitro Funny Car, Mountain Motor Pro Stock drivers Pete Berner and Cary Goforth and Larsen Motorsports' all-female Jet Dragster Team and many more. The series began shooting this past week at the season opener in Tucson, Arizona at IRG's owned Southwestern International Raceway. IHRA "Nitro Jam" will shoot on location at the Palm Beach Nationals at Palm Beach International Raceway in Jupiter, Florida this weekend, May 2-3. Further schedule details available:  http://ihra.com/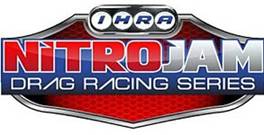 Each show will take viewers in the pits and homes of the fierce competitors. For the first-time ever, racing devotees can see the action on and off the track from their living rooms … or via their mobile device wherever they may be in the world. In fact, this show puts you so close to the race teams, it's like being ON the team.
About Rio Vista Universal
Rio Vista Universal, based in Los Angeles and headed by James Ganiere, boasts a hefty resume with "Gear Heads" and "Nitro Jam" leading its production slate.  Others include "Back from the Dead," "Reel Hollywood" and "Ultimate Garages." In addition, Rio Vista Universal shingle, also manages and develops talented writers including Kenneth Kemp, who won Scriptapalooza for the pilot "Attaché."
About IRG Sports + Entertainment
IRG Sports + Entertainment™ (IRG) is a leading purveyor of sports and live entertainment experiences and is the privately-held parent company of International Raceway Group™ (IRG) and the International Hot Rod Association™ (IHRA).
About MAVTV
Owned and operated by Lucas Oil Products, MAVTV is a television network with its roots deep in the automotive world. With an unparalleled line-up of motorsports events and exclusive automotive reality shows, MAVTV is the answer for motor-heads from all walks of life.